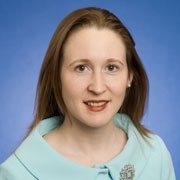 Michelle (Jeffress) Le is a two-time alumna of The Fund for American Studies. She attended the Institute on Political Journalism (IPJ) in 1995, interning with the Military District of Washington as a staff reporter. The following year, she participated in the American Institute on Political and Economic Systems in Prague (AIPES). In 1997 she returned to TFAS again, this time serving as a program assistant for the international programs. In 1998 she joined the TFAS staff fulltime. Le currently works as the vice president of international and alumni programs for TFAS.
Le is originally from Independence, Mo. She earned her bachelor's degree summa cum laude in political science with minors in history and French from Missouri State University. She completed her master's degree in international economics and European studies at the Johns Hopkins University School of Advanced International Studies. She spent her first year of graduate school overseas in Italy, studying at the SAIS Bologna Center.
During her undergraduate and graduate studies, she completed a foreign policy internship in the office of John Ashcroft, then U.S. Senator of Missouri, as well as a print media internship with Inside Report, Evans & Novak. Le also worked as a political researcher for a member of the government in the British Parliament in London, United Kingdom.