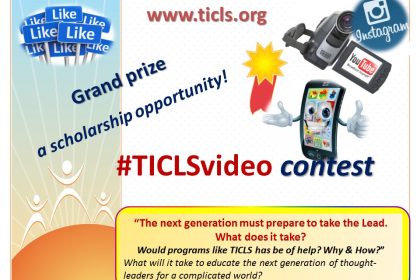 Win a scholarship this summer!
Imagine it is 2020. Not so far away! Will, and how, our daily lives be different? Is education of the next generation suitable? Is there something more needed? What if it was up to you? How could you contribute? Do you feel like a Leader? Can you influence others?
Show us how you envision Leadership. Make a short video and share it with us!
The theme for the video is
"The best summer school" 
The next generation must prepare to take the Lead. What does it take?
Would programs like TICLS has be of help? Why & How?"
What will it take to educate the next generation of thought-leaders for a complicated world?
---
Our main goal is encouraging the younger generation to think like Leaders.
ILA and LFOF participants from around the world will meet at Chania, Crete, in a few weeks, to learn and discuss about Personal Leadership, innovation, and international important issues on economy, geopolitics, and conflict management, that affect our everyday lives in the background.
We want them to become leaders in their chosen field!
But, we cannot wait until July!                   Let's kick-off with the TICLS Video Contest!
The Grand Prize
The videos that get the most likes on Facebook will win a 1.000 euros for ILA or LFOF, to attend the respective Summer program in Crete, Greece.
The best videos will be published in our web page, YouTube channel and other social media.
The scholarship is applicable only to our regular attendance rate, exempting the registration fee. It is not a cash prize, so it cannot be applied to other expenses. The age and educational level of the winner will determine the program to attend (ILA or LFOF). One winner for each program will be eligible to receive the scholarship.
How to WIN?     Follow these easy 6 steps:
Make a short video(from 30 seconds to maximum 2 minutes long) with any device (smartphone, tablet, or digital camera)
Like our Facebook page
Follow@TICLS_org on Twitter
Post your video on your Facebook wall OR YouTube channel, Instagram, OR send it to us to do it
Write a post and a tweet including:
-The social media post link  (Facebook, Instagram, Youtube)
-The video name or a short comment, and
-The hashtag #TICLSvideo
For example: "This is why I am a Leader" www.facebook.com/ticls.org #TICLSvideo
Share your video  and tell your friends to vote for you! Anyone can vote!

Voting begins as soon as you follow the 6 steps.
Competition is open
The video with more likes will be the winner! 
All entries must be submitted before April 1, (11:59 GMT+3).
Voting ends April 30, (11:59 GMT+3).
Winners will be announced on May 5.
To receive the prize you must apply (online) to attend one of our Summer programs (ILA or LFOF in Crete, Greece)
The best videos will be published on our YouTube channel, and other social media.
If you have any questions or feedback, please contact us by email